Pick Up Your Own Brass: Leadership the FBI Way
Authors: Kathleen McChesney, William A. Gavin
"Not merely 'cops and robbers' stories, but rather these are stories of leaders and followers in the toughest and most complex circumstances imaginable, coming through time and again ... Pick Up Your Own Brass was indeed, a 'page turner.'" — From the foreword by Tom Peters, coauthor of In Search of Excellence: Lessons from America's Best-Run Companies
In FBI terms, leaders who pick up their own brass casings at the firing range are more effective than those who expect someone else to do it for them. To those in the Bureau, this small action speaks louder than words and is largely indicative of a person's overall management style.
Through a host of real-life FBI stories, from the streets to the corner offices, Pick Up Your Own Brass: Leadership the FBI Way reveals the leadership qualities that have enabled the bureau to successfully navigate through a century of war, espionage, organized crime, terrorism, fraud, and corruption. The book provides key insights into the FBI culture that is predicated on its independence and integrity-driven actions.
Offering fifty essential leadership lessons based on challenges that FBI officials have faced over the course of their careers, this book can help anyone—established leaders, aspiring leaders, minority leaders, and even "accidental executives" who find themselves managing more than they imagined—build a culture of leadership.
"Kathleen McChesney and Bill Gavin, both hugely credentialed FBI senior managers, detail how a diverse, unwieldy, bureaucratic, and public-spotlighted agency pulled and pushed itself to regain its place as the preeminent law enforcement agency in the world. This is a lesson plan for business and even for families. It's an indispensable how-to for corporate success." — Frank Keating, former governor of Oklahoma and former FBI special agent
"Whether you're an aspiring leader, a mid-level manager, or a senior executive,
Pick Up Your Own Brass is for you. Each chapter is a stand-alone lesson drawn from a quick, compelling, and clear story of real FBI leaders, warts and all, facing tough problems. As a whole, the authors describe the essence of great leadership in action." — Lt. Gen. James M. Dubik, USA (Ret.), former commanding general, Multi-National Security Transition Command and NATO Training Mission, Iraq
"This book is an excellent resource for academics and practitioners in a variety of disciplines. It is an especially important part of the literature on law enforcement, providing compelling examples of leadership at all levels of an organization. Students will benefit by reading about the principles of leadership and how to apply those principles to real-life situations. This is essential reading for everyone aspiring to a career in the criminal justice disciplines." — Karen Terry, professor, John Jay College of Criminal Justice
"People matter! I know personally that the authors embrace and promote this belief in their daily commitments. They have now effectively transcribed principles of life and leadership that should be the beacon for all of us." — Terry G. Hillard, cofounder and partner, Hillard Heintze, and retired superintendent, Chicago Police Department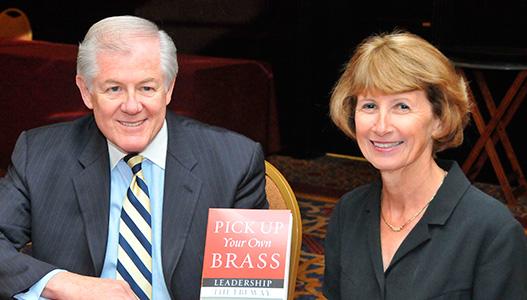 Kathleen McChesney and William Gavin present specialized leadership courses to leaders and aspiring leaders of organizations.
Buy from:
Amazon or Potomac Books